Summer is coming~♥

And I am nowhere near skinny thanks to 99 cents popcorn and what not =( Bye bye beautiful beaches....would be slaving my way through summer classes this year to complete as many credits possible so next year can vacation in Hawaii~
I notice I keep getting comments in Japanese. Eh hello, I cannot read Japanese ok. If I can I would be blogging in Japanese so I can rant all I want and no one can understand hoho.

Went to Rose Bowl during the weekend. It's a baseball (?) stadium and park and lotsa things combined into one area. Many joggers there and I contemplated joining them until I figure out that I would probably die halfway cause it takes at least 2 hours or more to circle the entire area.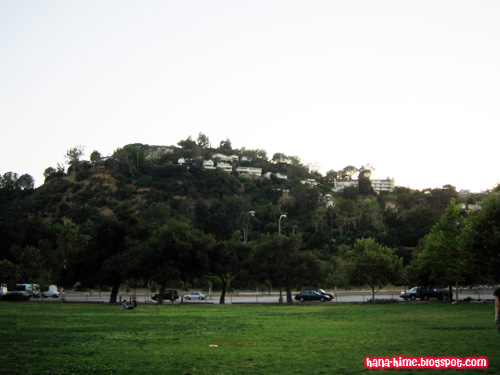 Suppose halfway through I want to stop and go home but then my car would be like HALFWAY round the park then how? Ming ming cannot complete the circle liao how to jog back. Scream for help? Crawl back? :imagines: Very helpless ok.
I wish I was a kid again so I can play happily in the playground. What would I give to be able to sit in a slide again. I think the last slide I ever played with was the water slide in Sunway when I was 12. The impact against the water made me lost the top half of my swimsuit ok and ever since then I never went near slides again =(
Trying to act like welcoming ushers but failing miserably. Ended up looking like long lost sisters in some tragic drama trying to reach out to the other in desperation while the pillars continue pulling them further apart.

Shadows of aliens from outer space jklajsada.
Jay Chou thing!!!! We ran like mad towards it screaming 'Jay Chou thing' scaring people away in our desperation to play with it. We call it 'Jay Chou thing' cause he and another guy played with it in his 'Wo de di pan' MV and we have no idea what's the actual name of the thing =P But very fun ok.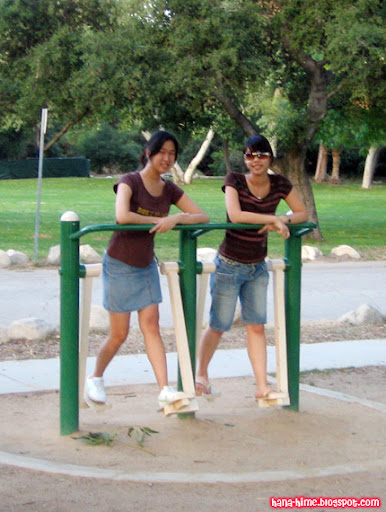 Ended up taking tons of pics with it instead of playing. Regret deeply cause by the time we were done taking pics, daddy called us home =(
Spring photo shoots like pic. All we lack are long flowing sundresses hmmm....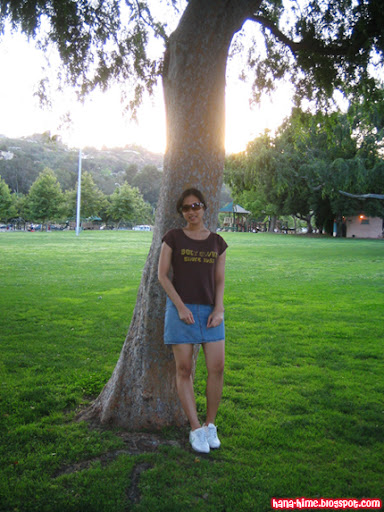 Me finally stealing 2nd sis sunglasses in order to have at least one decent picture. If I have but one wish, I would wish for nicer eyes ok.
I am starting to enjoy my life here now as I slowly fit in. Am crossing my fingers and hoping to return back again for a picnic next week =)